The information shared in this blog will help you in knowing more about steelpans and their history. In addition, you will reveal some top-rated steel drums for sale. It will be much easier to pick the best one after reading the shared information.
The steel drum is one of the most popular percussion instruments, which was invented around the 2nd World War. Millions of people have become a fan of this instrument since its introduction.
It is the only percussion instrument invented in the 20th century. Although many variants emerged over time, the one invented in Tobago and Trinidad is considered the original steel drum.
Best Steel Drums
The market is flooded with steel drum variants. Finding a feature-rich steelpan can be a little tough now.
We have assessed and reviewed the best ones designed to date so that you can pick a perfect percussion instrument for your musical practice and entertainment.
So, let's find out which are the best steel drums for sale.
Panyard Steel Drum (W1070)
It is a top-quality drum sold at quite an affordable price by Panyard. It is easy to learn and fun to play an instrument, that both kids and adults would love to try.
The buyers call it a versatile instrument because it offers a great blend of durability, design, and ease of learning or teaching.
It is simply the most wonderful one that you can buy at budget-friendly rates. This drum can help you in creating various tunes played on the Caribbean islands.
You can use it for recreational purposes at home, to learn steelpan music, and also to teach others how to play steel band music.
It is an authentic top-quality instrument, suitable for all ages. It works as good as a professional instrument sound and therefore it can also be great for any steel band.
All the notes are marked on this drum. Therefore, you can open the songbook, read the notes, and play it to produce entertaining music.
Panyard Jumbie Jam Authentic Steel Drum Kit
Being the world's leading steelpan manufacturer, they always try to provide music lovers with something unique to celebrate and practice music.
Jumbie Jam steel drum proves how carefully Panyard designs its best products. It is okay if you can't read music because you don't need any prior training to play this one.
It offers notes marked in capital letters. Even a kid can open the music book, pick the mallets, and start playing it by reading notes given in the book.
You get play-along songs free with this steel pan along with a beginner's guide and songbook, teacher's guides, and more.
This beautiful drum is available in three impressive colors. You can choose between a pink, blue, and gray one.
This high-quality drum will always produce melodic sounds as you touch the note with a mallet. Its durable and fully tuned surface will allow you to practice and create music for many years.
Pros
High-quality and suitable for people of all ages (3+)
Capable of producing sounds as good as pro levels do.
Plays eight notes of G key.
Steelpan learning guides, table, and songbooks are shipped for free with the steel drum.
One of the most affordable and durable steel drums available for sale in the market.
Consider
Cheap quality stand might trouble you.
Steel Drum with Sticks, Stand, DVD and Booklet
This company is responsible for bringing some top-rated steel drums in the market.
Its latest product comes with a free songbook and some more perks that make it a lucrative choice.
The booklet you get with the steelpan offers a guide for playing Happy Birthday, Jingle Bells, London Bridge, Oh When the Saints Go Marching In, This Old Man, Twinkle Twinkle Little Star, Amazing Grace, and many other songs.
If there are little children in your family who enjoy music, you should buy this one for them. It is a handmade steelpan, which is small and quite lightweight.
You get durable mallets for free with this pan. In addition, a free DVD is shipped to offer free lessons.
It is an extremely durable instrument, which you can play to enjoy classical, jazz, calypso, soca, reggae, and salsa music.
In simple words, it blends perfectly with other modern instruments. It requires a little practice and a great understanding of notes and musical keys to play like a pro.
However, you can read the songs in the songbook, check the notes on the steel drum, and then produce the intended tunes.
Pros
A handcrafted mini Caribbean drum with C instrument key.
5" percussion diameter.
Notes are marked in capital letters.
Free DVD and music booklet for learning music.
This is box title
Some buyers are not happy with the build quality of the drum and mallets.
Panyard Steel Drum Ready To Play Kit
This entry-level steel pan is designed for everyone, who wants to play Caribbean-style music. It is shipped as a pre-tuned instrument.
You won't need a professional tuner to tune it. You can find many other steel drums for sale, but this American-made steelpan is quite versatile.
Its sweet sound will lure your children to take an interest in music. Being made of sturdy steel metal, it can easily bear heavy strokes.
However, you should play it gently to get the best sound from each note. The notes are already marked so that everyone can read them and play some favorite songs.
This authentic steel pan is great for creating music at home. Just like other instruments from this company, this percussion instrument is also easy to learn and fun to play.
Strike the notes and you will fill your room with melodious sound.
Pros
A made-in-USA with durable construction and melodious notes.
Easy to learn and perfect to play for recreational purposes.
Marked notes for reading and playing music.
Comes with durable mallets, table stand, and a complete guide for learning steelpan music.
This is box title
Its plastic stand seems fragile and there might be a dent if you hit heavy strokes.
Steel Drum Source 14" with Stand, Sticks, and Booklet
People from the Caribbean islands have been designing and making drums for many decades. This unique percussion instrument is renowned for its melodious sounds.
This company is creating drums that can flawlessly replicate the sounds you listen in the Caribbean-style music tracks.
This 14" steel drum is a flawlessly crafted percussion instrument to play ten notes of the C instrument Key. It is made from durable steel and its lightweight stand is built of PVC tubing.
You get a free booklet to learn reading and play steelpan music. Besides, a play-along DVD is provided by the manufacturer to help you in learning steel drum music faster.
This one weighs 9 pounds and it is perfectly suitable for soca, reggae, jimmy Buffett, calypso, Caribbean, and island music styles.
So, pick your favorite music style, get this drum, and practice at home. You will soon be able to play some entertaining tracks on this melodious instrument.
Pros
A durable and handmade.
14" playing surface with ten notes.
Comes with a lightweight PVC stand.
Mallets are wrapped with latex tips.
A free booklet, music DVD, and guide for learning steelpan.
This is box title
Its flimsy PVC stand can easily break if extra pressure is applied.
Lomuty Steel Tongue Drum with 11 Notes
Some great steelpan variants emerged over time and the tongue steel drum is one of them. The Lomuty Steel Tongue Drum is a beautiful and melodious tongue drum with 11 notes.
It is equipped with durable silicon feet, which keep this drum stable. Its modest size makes it a highly portable percussion instrument.
Lomuty has used a blend of steel and titanium alloy to create this drum. This company is already offering many steel drums for sale and this tongue drum is truly unique among them.
It has 12" drumming surface and 11 notes play mixed C major tunes with three different octaves.
A steel drum, two mallets, a carry case, a music book, picks, and note stickers are shipped with this kit.
This handmade instrument is corrosion-resistant and way more durable than ordinary steelpans. You can play it with your bare hands or mallets, depending on your grasp of steelpan music.
Pros
12" drumming surface with 11 flawlessly carved tongues.
Perfectly tuned to play Mixed C Major with three different octaves.
Hand-crafted tongue drum, perfect for music creation, meditation, and recreational purpose.
A 30-day unconditional money-back guarantee if you are not satisfied with the performance of this tongue drum.
This is box title
Mallets are not as durable as the drum.
Happybuy Steel Tongue Drum
There are a few attributes people look for when searching for steel drums for sale. The drum must be portable, pre-tuned, made of durable alloy material, and easy to learn and play.
The Happybuy Steel Tongue Drum owns all these attributes and that's why we consider it one of the best steel tongue drums.
It is made of steel-titanium alloy and flawlessly hand-tuned for melodious performance Tongues are carved with hands to create a clean and ethereal sound.
Its lacquer finish protects this percussion instrument against scuffs, tarnishing, and scratches. It can maintain its beauty and melodious tones for a long time.
This steel tongue drum plays 11 notes of the D Major key. Beginners won't find it too tough to play with their hands or mallets.
Notes are marked on each tongue and therefore it will be much easier to play melodic tracks.
This steel drum is tuned before painting and once again after applying the paint. Its intonation pitch is +5 or -5.
Therefore, it always produces smoother and more appealing tones.
Pros
Made of durable steel-titanium alloy.
Tuned twice to create melodious sound.
Stays steady over its silicone feet.
Great for meditation, entertainment, and creating Caribbean-style music.
This is box title
Not a great percussion instrument to play with bare hands.
Steel Drum Source Full Size Steel Drum
It is a 23" drum with 28 finely tuned notes. Its eye-catching chrome-plated finish offers it a unique look.
You get it with a stand and two sticks. This one is tuned to play A440 and fully chromatic notes.
We have already listed other feature-rich percussion instruments from Steel Drum Source. This brand consistently offers new steel drums for sale.
It has different size instruments, which are suitable for beginners, intermediate-level musicians, and professional pannists.
You won't feel disappointed after checking the build quality and melodious tones this instrument produces.
It comes with an adjustable metal stand. Besides, you get two durable mallets with rubber tips. It will produce a clean and soothing sound every time you strike a note with the mallet.
Therefore, this steel pan is perfect for meditation, relaxation, and entertainment.
Pros
A 24" chrome-plated steel pan.
Comes with a durable metal stand and two mallets.
Steel Drum Source ships music booklet and a beginner's guide with its instruments.
This is box title
It can be a little daunting to carry this instrument from one place to another place due to its large size.
Advanced Version "Lark Music" Hand Pan in D Minor 9 Notes
When it comes to choosing a top-rated steel tongue drum brand, Lark Music is always our first choice. Its hand pan is a beautiful and sturdy solution for your entertainment demands.
This drum is only 22.8" in diameter. It comes with a carry case in which you can store this pan and carry it on your back or as a handbag.
This drum is designed to play 9 notes, D3, A, Bb, C, D, E, F, G, and A. Each note sounds clear because each drum is flawlessly tuned before shipping.
This brand also offers comprehensive guidance on how to play and tune this hand pan at home
You can use mallets or play with bare hands. The only thing you have to remember is not to hit too hard and prevent this drum from direct sunlight.
It can provide a long and entertaining service if you take care of these things.
Pros
It is a 22.8" wide hand pan with 9 perfectly tuned notes.
Each note creates excellent resonance vibration and the manufacturer checks each note by using a cutting-edge tuner.
This pan it tuned to play D Minor 9 notes, which are D3, A, Bb, C, D, D, E, F, A.
This is box title
The zipper case shipped with this pan is not quite durable.
Rakumi 12" 13 Note Steel Tongue Drum
Crafted by professional craftsmen, Rakumi Lotus Steel Tongue Drum is probably one of the most attractive steel drums for sale available on Amazon.
This beautifully designed steel tongue drum can play 13 notes in C Major. You can create a much wider range of sounds than other steel drums.
This drum is perfect for everyone. You can easily learn how to play this percussion instrument, regardless of your prior musical knowledge.
Many people use it to create spiritual sounds and also for meditation. You can easily calm down your emotions by playing this drum.
Whether you prefer mallets for your hands, this instrument produces impressive sounds in both ways.
You will have to hit it a bit harder when playing with your finger and go gentle when using mallets. One thing is sure it will always allow you to create melodious and soothing music.
Pros
Flower style golden hand pan.
Capable of playing 13 notes in C Major.
Shipped with mallets, a carry case, notes stickers, picks, and a guide book.
A 30-day unconditional money-back guarantee if you are not happy with the performance.
This is box title
The stickers may fall off easily.
Facts about steel pan drum
There are many things that you do not know about steel drums. Some of those facts are as follows:
The first was made from an oil drum on the island of Trinidad. It was later improved and turned into a melodic percussion instrument.
It is a tuned idiophone, which is now made from top-quality steel. You will find only stainless steel drums when you search for steel drums for sale.
Although steel bands follow different kinds of music, most of them are rhythmic and related to Calypso music.
The early steel bands were formed by including instruments, such as biscuit tins, soapboxes, and dustbins. Today's steel bands include cowbells, vibraphones, bongos, congas, triangles, and other similar instruments.
Craftsmen create steel drums in families, such as rhythm pans, bass pans, and tenor pans.
People used to play bamboo stamping tube ensembles before steelpans, which were banned, and later steel bands came into existence.
Trinidadian rival bands were participating in bad wars, which were concerning for the authorities and that's why this practice was prohibited.
It requires special skills to build a steelpan drum. Steel sheets are shaped into drums and later tuned to play music.
The credit for creating the first steel drum for sale goes to Winston Spree Simon.
The steelpan was declared the national instrument of Trinidad and Tobago in 1992. It must be built in these islands to be a national percussion instrument.
Steelpans were popular only in the Caribbean islands during the 2nd World War, but their popularity grew over time. This percussion instrument is now built and played across the globe.
Steel drums are usually expensive because it takes a long time to build and tune a drum along with special steelpan crafting skills.
An artist, who plays steel drums, is called a Pannist.
Steel Percussion drums types
There are several types of steel percussion drums and you can easily find all these steel drums for sale online.
It is the highest instrument and this single one is played by one pannist.
This percussion instrument can have a range from C4 to E6 and it majorly plays the melody when a steel band is performing.
It is the 2nd highest instrument in a steel band. This drum includes two steel drums and both are played by one pannist.
This type of steel drum for sale can have a musical range from F3 to D6. This drum produces a brass-cutting sound which usually doubles the melody an octave below.
It is also played in harmony with tenor pans.
It looks similar to the double tenor pans because it also has two drums and only one pannist plays both drums.
This drum can have a musical range of F#3 to C#5. This type of drum produces a bit more mellow sounding due to its tuning scheme.
Pannists usually play it for harmony, counter melodies, and also for background strumming.
A pannist plays the set of two pans as a guitar pan in the drum. Both barrels are cut a bit less than halfway.
This type of shape allows these drums to produce dark and mellow sounds. Guitar Pans' musical range can be between D3 and A4.
These drums are mostly used as background strumming instruments. You can also play melodies and counter melodies on a guitar pan if you want.
This pan comprises three drums, which are prepared by cutting a barrel in half. One pannist plays all three drums.
This pan can have a musical range between B2 and B4 with resonant and hunting tone quality.
It is also known as high bass pan because it is a set of four drums cut almost three-quarters of a barrel.
One drummer will play all these four drums. These drums can produce tones between F2 and C4.
This drum includes six full barrels and three drums. It is used to play the bass line and it can have a musical range between Bb1 and Eb3.
Panyard Steel Drums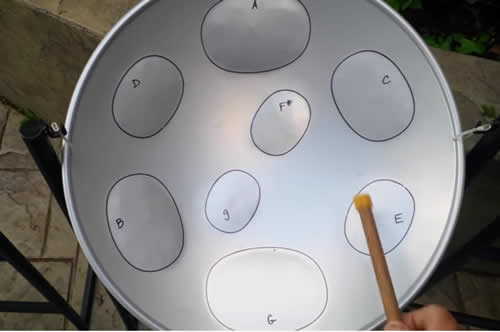 This company was established in 1990 by Ron Kerns and Shelly Irvine. Ron is the founder, owner, and CEO of this company and Shelly is also the founder and former tuner.
They both were studying in the University of Arkon's Music Faculty.
Ron and Shelly went to Trinidad for a short time to enjoy the carnival and they made pans during this trip.
Both went back to the Caribbean island in 1989 and this trip played a major role in founding Panyard Inc.
Their journey encouraged them to build better musical instruments than percussion instruments made of drums.
They started this business, worked hard, and today their drums are sold across the globe.
This company now builds various types of steelpan. Their edition is the most popular one among beginners and pro drummers.
This company provides affordable and durable steel drums to encourage people to connect with Caribbean-style music.
Handpan Steel Drum
It is widely known as the subset of the steelpan. However, it is a totally unique steel pan drum. The handpan term was first coined by Pantheon Steel in 2007.
They used this term to describe their own percussion instrument launched in 2007. It was introduced as a better alternative to hang.
Today, this type of steel pan drum is quite popular among musicians and people who want a melodic instrument for recreational purposes and relaxation.
A handpan can play multiple notes in different keys. Even, some renowned musicians also use this instrument to create Caribbean-style music for bands, albums, and movies.
Steel Pan Drum Mallets
Steel pan drum mallets, also known as steelpan sticks, are used to play steel drums. These mallets are made of wood sticks and rubber or latex tips at the playing end.
You can easily find long and short-size mallets at online stores to play the steel pan. Below is an Amazon "best choice" Kakesa sticks.
Steel drum stand
Steel drums are hung over a stand, which is known as a steel drum stand. It is a superbly built stand, which allows vibrating freely.
You may not be able to produce melodious and resonating sound from it if you or someone else is holding it. Therefore, steelpan stands are used.
Frequently Asked Questions
What does the steel drum sound like?
It is tough to describe what this drum sounds like. However, its effects on listeners are describable.
It is a melodious instrument, which produces melodic sounds. This instrument immediately helps the listener is forgetting all the stress and relax. It can also remind you about a vacation in a tropical location like the Caribbean islands.
How does a steel drum work?
This percussion instrument is made from a metal shipping drum. Its end surface is hammered and then curved in.
The manufacturer later creates chiseled grooves over that curved surface and then this drum is heated. Hammering allows the craftsmen to create melodious steel drums.
How to play a steelpan?
You should carefully read the marked stickers and follow the guide given in the steelpan guidebook to play it. You can also play it without any book for recreational purposes.
What is the steel drum made out of?
People used to make them from used oil drums in the past, but now it is made of top-quality steel.
Who created the steel drum?
The credit for building goes to experts such as Tony Williams, Winston "Spress" Simon, and Ellie Mannette.
Conclusion
Steel drums are an integral part of the Trinidadian culture. These percussion instruments are widely played across different tropical locations in the world.
You can also choose one of the reviewed steel drums for sale and buy it right now at an affordable price.